PE and Sport
Term 1
Boys McCarthy Cup – Boys in Year 5/6 battled it out against 6 local teams in an all against all football tournament at Ash Recreation ground on 10th October 2019. Starting to develop our positioning and team cohesion since last years year 6's moved to pastures new, the boys showed grit and heart to fight until the end of each game. Dominating in several games, Ash Cartwright and Kelsey came away with 3 wins, 1 draw and 2 losses, finishing in 3rd place. Thanks goes to the support received from parents!
Girls McCarthy Cup – Girls in Year 5/6 took to the field the following day at St Faiths for their McCarthy cup tournament, in which some of the girls were playing in their first event outside of school! With each game that passed, the girls grew in understanding and confidence and were outstanding from back to front. Too many draws unfortunately meant we fell at the group stages; however, a huge amount was taken from their first matches together. Well done to everyone involved!
League Football Games vs Wingham
On Monday 14th October both the girls and boys team travelled to Wingham Primary School to face their local rivals. Both schools showed spirit and hard work in two very evenly matched games and were a credit to their communities.
The boys took the lead in the first half with a beautifully worked goal involving 7 passes, and dominated the shot stats, however unfortunately gave away a penalty in the closing stages to draw 1-1.
The girls battled out a 0-0 draw, after spurning several chances in front of goal. Dominating games it is only a matter of time before the goals start flying in!
Term 2
Friday 1st November – Year 5/6 School Games Basketball tournament:
Arriving at Goodwin Academy with a raring bunch of Ash Cartwright and Kelsey warriors, we were placed up against 6 other schools in an atmospheric hall arena. The pupils, with little prior training, took to the court like 'ducks to water!'. Using knowledge from Invasion sports competed in, in the past, pupils showed their skill, scoring a number of hoops culminating in a huge 13-1 win!!
Fridays game vs Eastry
We lost 3-1...after the setback of going down 3-0 before half time the boys showed spirit to win out the second half 1-0 and had we taken our chances could have been involved in the greatest comeback since Lasse Viren in the 10,000m Olympic final! Unfortunately it wasn't to be!
Mondays Cup game vs Lydden started emphatically better! Bang, Bang, Bang... 2 goals from Josh and 1 from Ashdon put us in a commanding lead. Second half was another story again though and Lydden put the pressure higher up the pitch! Someone we will now need to work on as the game finished 3-3.
The game however was not over...
Penalties!
Lydden stepped up for their first and..... GOAL
Louie confidenty stepped up and.... SLIP.... GOAL!.... Phew!
Lydden and...... GOAL number two!
Josh steps up for ultimately his hattrick and in the net it goes!
Lydden... Penalty number 3....Over the bar and into next doors garden... Very unlucky
Ashdon to win it... He placed the ball confidently down and Goal, the crowd goes wild and celebrations leak onto the pitch.... Not without forgetting to shake hands and check on the opposing team though... Well done boys!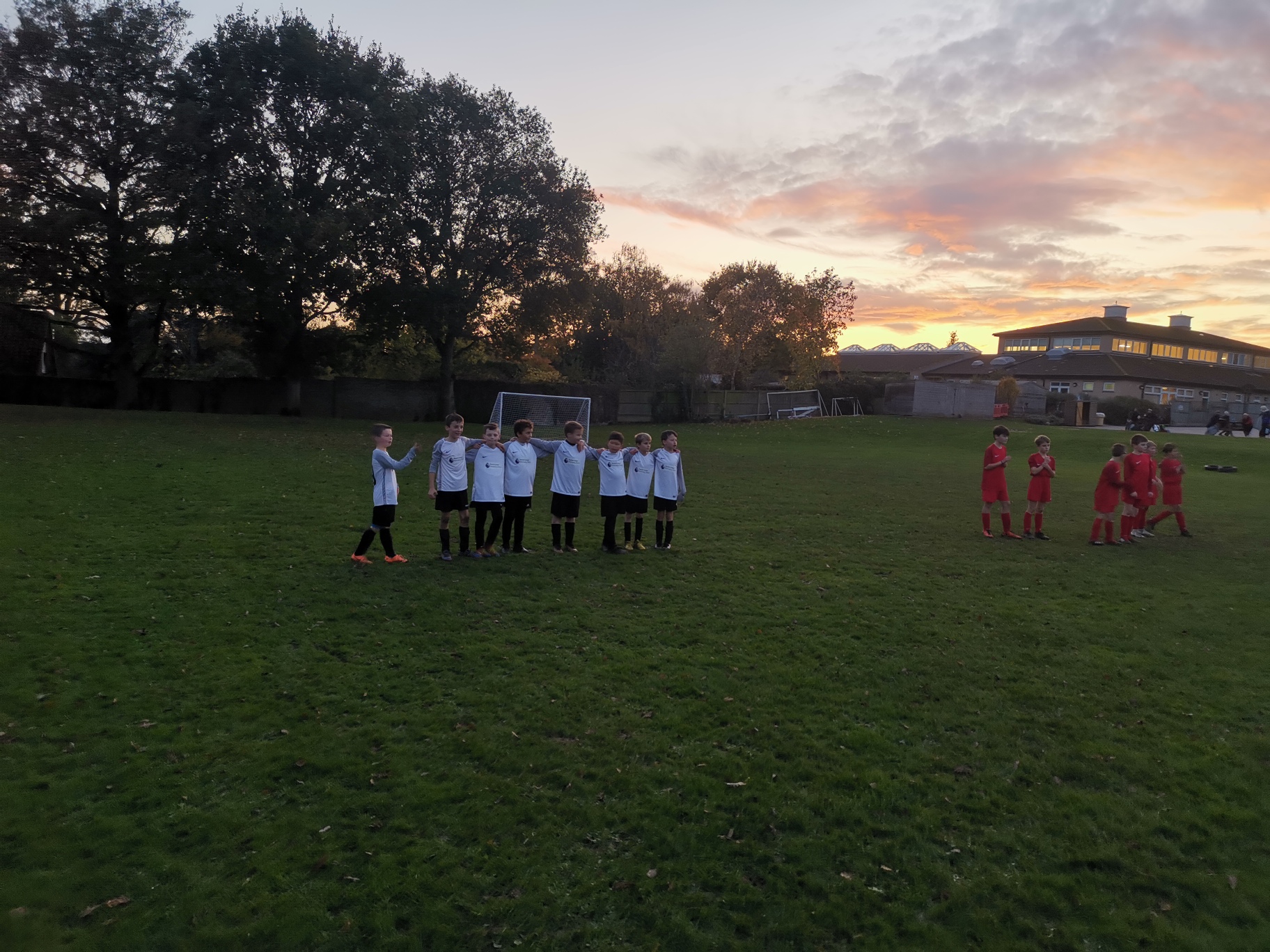 PE Kit
All children should have an outdoor and an indoor PE kit with them in school every day. To support us with teaching your child PE, please can you make sure your child has the correct PE kit, all clearly labelled with their name, in a draw-string bag. This will help us to avoid getting PE kits mixed up.
In your child's PE kit, both for comfort and safety should be the following items:
Yellow T-shirt
Shorts
Jogging bottoms and jumper or tracksuit
Slip on black plimsolls and trainers ,preferably old, for use on a muddy field (Carrier bag needed)
As health and safety is very important when taking part in physical activities; watches or jewellery should either be removed or covered with a sweatband or micropore tape, which is the pupils responsibility to remember to bring in with them.
Participation in PE is hugely important for the development of health, fitness and wider skills for learning such as resilience and collaboration. 'I forgot my PE kit' is not an acceptable excuse for missing PE neither is having a cold. Children will only be exempt from a PE lesson for serious medical reasons.
Clubs
Term 1
Year 4/5/6 Football – Monday
KS2 Mindfulness - Monday
Year 1/2 Football – Tuesday
Year 3 Football – Wednesday
Dance Club – Wednesday
Term 2:
Year 3/4 Dodgeball – Tuesday
Year 5/6 Tag Rugby – Tuesday (Lunchtime)
Year 1/2 Football – Wednesday
Year 4/5/6 Football - Thursday
Events:
18/09/19 – 1/2 Tag Rugby Tournament
10/10/19 – Boys McCarthy Cup
11/10/19 – Girls McCarthy Cup
14/10/19 – 5/6 Boys & Girls Football League Games vs Wingham
01/11/19 – 5/6 School Games Basketball Tournament at Goodwin Academy
08/11/19 – 5/6 Boys Football League Game vs Eastry
11/11/19 – 5/6 Boys Crickson Cup game vs Lydden
15/11/19 – 5/6 Boys and Girls Football League games vs St Faiths
22/11/19 – 5/6 Tag (Touch) Rugby Friendly vs St Faiths
25/11/19 – 5/6 Boys Football League Game vs Northbourne
29/11/19 – 5/6 Boys Football League Game vs Sibertswold
02/12/19 – 5/6 Girls Football League Game vs Sibertswold
23/01/20 – 3/4 Dodgeball vs St Faiths
24/01/20 – 5/6 School Games Sports hall Athletics
31/01/20 – 5/6 Dodgeball vs St Faiths
06/02/20 – 3/4 School Games Sports hall Athletics
06/02/20 – 1/2 School Games Infant Agility
06/03/20 – 3/4/5/6 School Games Swimming Gala
17/03/20 – 5/6 School Games Handball Tournament
18/03/20 – 5/6 School Games Team Cross Country
01/04/20 – 5/6 School Games Quicksticks Hockey
12/05/20 – 3/4 School Games Tennis
15/05/20 – 5/6 High 5 Netball vs St faiths
05/06/20 – 5/6 School Games High 5 Netball
09/06/20 – 1/2 School Games Rapid Fire Cricket
12/06/20 – 5/6 School Games Girls Cricket
17/06/20 – 5/6 School Games Mixed Cricket
24/06/20 – 5/6 Cricket vs St Faiths
02/07/20 – 3/4 Cricket vs St Faiths
Thank you for your support and cooperation
Mr Hayes